Our Process
Approach to Wealth Management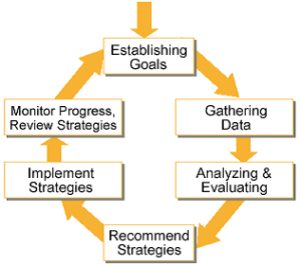 Our approach integrates your objectives into a personalized plan that can be updated as life changes occur.  We combine sophisticated investment planning tools with professional resources to help match your objectives with customized solutions.  Our process includes:
Understanding Your Goals – Every relationship with Laguna Wealth Advisors begins with a discussion of your Goals and Needs and the financial resources needed to accomplish them.  We begin by listening, to understand you and your financial goals.

Gathering Your Current Financial Information

 – Together, we gather your relevant personal and financial data.
Analyzing and Evaluating – This data is then analyzed, keeping in mind your goals and needs, and various solutions are evaluated until an appropriate strategy is formulated to match your objectives with sound strategies
Recommending Strategies – This overall strategy is presented to you and is the basis for your overall Investment Policy Statement.
Implementing Thoughtful and Creative Solutions – We develop customized solutions tailored to your objectives, drawing from a wide selection of world-class products and services.
Providing Timely, Ongoing Service – We regularly review your situation to help ensure your financial objectives are being met.
Click here to learn more about our "Onboarding Process" and "Portfolio Construction."